SABMiller in exclusive deal with Virgin Atlantic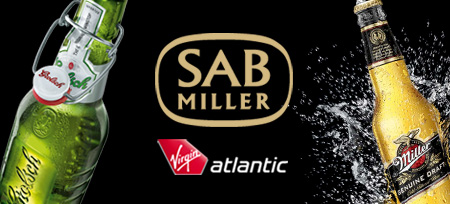 In 2011 passengers flying with Virgin Atlantic will be able to enjoy two of SABMiller's global beer brands whilst in the air, following an exclusive deal to serve Grolsch and Miller Genuine Draft on-board Virgin Atlantic.
The distribution and marketing agreement will see also Peroni Nastro Azzurro, Pilsner Urquell, Grolsch and Miller Genuine Draft listed in the iconic Virgin Atlantic Clubhouses at Heathrow and Gatwick airports. For the nearby future, there is an intention to extend the partnership to other Virgin enterprises as well.
Chris Taylor, SABMiller's Group Global Brands Director said: "Virgin Atlantic has a reputation for delivering a great customer experience to travellers and we're delighted that our international brands will be a part of that experience. Their emphasis on quality and innovation make them ideal partners for our beer brands."
Since it was founded in 1984, Virgin Atlantic Airways has become one of the world's leading airlines and now flies to 32 destinations worldwide. The airline has pioneered a range of innovations setting new standards of service.